At BMW, we believe your joy extends beyond the driving experience, into  years of quality performance. Be it inspection, maintenance, repair or care, you can be assured that the BMW-certified team at the Authorised BMW Service Centre provides unrivalled care for your BMW with the guaranteed use of Original BMW Parts that comes with 24 month warranty, for your total peace of mind.
Read more
REASONS FOR YOU TO SERVICE WITH AN AUTHORISED SERVICE CENTRE
01

Guaranteed use of BMW approved tools, equipment and repair technology.

02

Notification of any BMW technical campaigns.

03

Complimentary software upgrades by BMW.

04

Invitation to service clinics.

05

Island wide 24 hour roadside assistance and recovery service.

06

4 year warranty on water base paint jobs.

07

The only automobile facility qualified to perform carbon fiber repair and replacements.
Simply select the package that your BMW need, and our BMW-certified service specialists will handle the rest. To secure the earliest possible servicing slots, do make an appointment with us today

Read more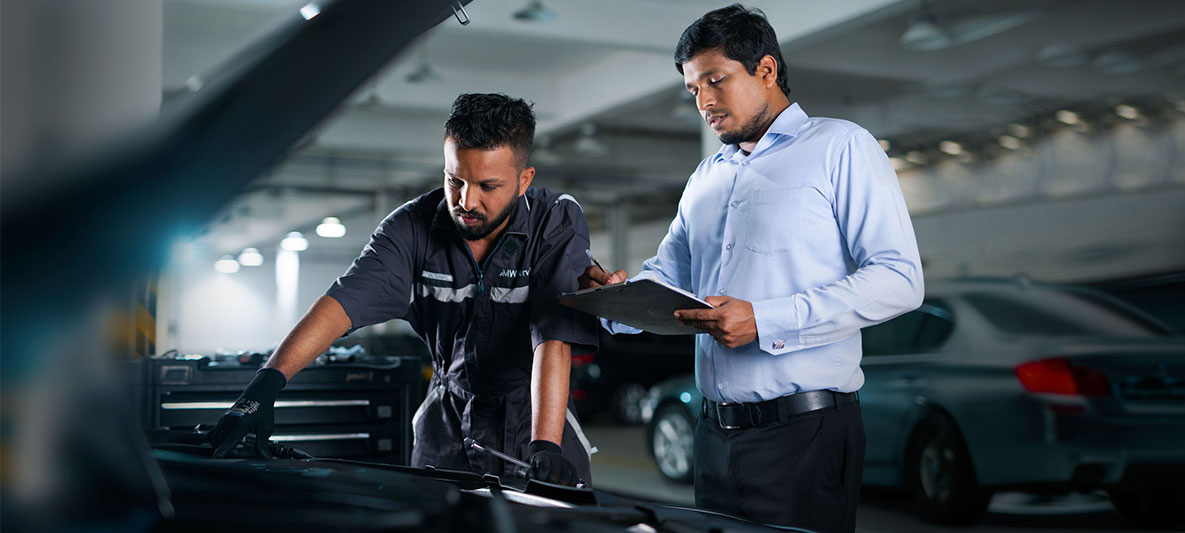 BMW ENGINE OIL SERVICE.
With Original BMW Engine Oil and Service, peace of mind is guaranteed on any journey. And that's not all: Original BMW Engine Oil and Service preserve the value of your BMW and ensure years of driving pleasure. Because they are perfectly tailored to the needs and requirements of your BMW.
Benefits with Original BMW Engine Oil and Service.
Improved fuel efficiency, reduced CO2 emissions.
Longer engine life through protection against slurry and particles of dirt.
Higher cost – effectiveness.
BMW Oil Service includes:
Replacement of Engine Oil and Oil filter.
Top up of washer fluid.
Comprehensive vehicle inspection in accordance to BMW manufacturer standards using BMW approved equipment.
Complimentary wash and vacuum.
Read more
Model
All-Inclusive Price*
BMW 318i manufactured from 2015 to 2018
29,050.00
BMW 320d manufactured from 1998 to 2004
30,450.00
BMW 320d manufactured from 2005 to 2011
32,200.00
BMW 520d manufactured from 2010 to 2016
33,150.00

BMW 530e manufactured from 2017 to present

BMW 740e/740Le manufactured from 2015 to present

34,220.00

BMW X1 18i manufactured from 2016 to present

BMW X2 18i manufactured from 2018 to present

30,975.00
BMW X1 2.0d manufactured from 2009 to 2015
31,750.00
BMW X3 2.0d manufactured from 2010 to 2016
33,100.00
BMW X5 xDrive40e manufactured from 2015 to 2018
34,000.00
BMW i8 manufactured from 2014 to 2020
32,490.00
Read more
Enjoy a 20% discount** off a range of Original BMW Parts such as air filters, fuel filters, micro filters, brake pads, brake pads sensors and brake discs. Applicable for selected models only. For more information, contact the service centre at +94112875666.
For a limited period, parallel imported BMW can also register for free to enjoy the benefits of being expertly maintained.
Read more
*Prices shown are inclusive of Original BMW Parts, Labour and local taxes.
**Terms and conditions. Discount is only applicable for BMW 318i, BMW 320d, BMW 520d, BMW X1 2.0d, BMW X3
Read more